100 Years of Alaska's Legislature
"From Territorial Days to Today"
---
---
DeLena Johnson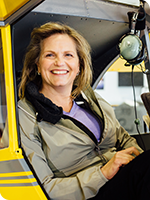 Representative DeLena Johnson moved to Alaska with her family in 1967 when she was just 3 years old. DeLena grew up in Talkeetna and after graduating from Susitna Valley High School married her husband, Steve. This was before Rep. Johnson attended the University of Alaska and was graduated with a Mathematics degree. She later successfully pursued an Associate's Degree of Electronics from Mat-Su College.
DeLena served as Palmer's mayor for two terms, is the owner of Ethos LLC, worked to preserve our State's history as the Executive Director of the Palmer Museum & Visitor Center, and took to bringing Palmer's interests to the State Level as President of Alaska Conference of Mayors from 2008 to 2010. In her spare time from work, and service, Representative Johnson enjoys spending time with her five children who all still live in the Palmer area.
Representative DeLena Johnson currently sits on Natural Resources, State Affairs, and Energy Committees; and is an alternate to the Community and Regional Affairs Committee.
DeLena champions the free markets, and has seen the direct effects of an over-extending government creating hurdles to jump through as a private business owner.