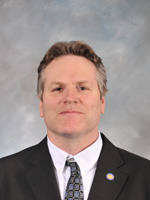 Session Contact
State Capitol Room 417
Juneau AK, 99801
Phone: 907-465-6600
Fax:

Interim Contact
600 E. Railroad Ave Ste. 1
Wasilla AK, 99654-8135
Phone: 907-376-3370
Fax:


SenatorMike Dunleavy

District E, Republican
Occupation
Length of Residency in Alaska
Communities Lived In
Koyuk
Fairbanks
Kotzebue
Wasilla
Education
Graduated Scranton Central High School 1979.
Graduated College Misericordia B.A. History 1983.
Educational Endorsement Program College Misericordia 1984.
Masters in Education UAF 1992.
Superintendent Endorsement Program UAA 1997.
Political and Government Positions
Mat-Su Borough School District Board Member,
Past two years School Board President.
Chair of Governor Parnell's Education Transition Team 2010
Senate Committees
Chair, Senate Education Committee
Member, Senate Finance Committee
Chair, Senate Budget Subcommittee on Education
Chair, Senate Budget Subcommittee on Administration
Chair, Senate Budget Subcommittee on Fish and Game
Member, Transportation Committee
Business and Professional Positions:
Public school teacher
Principal
Superintendent of schools
Director of K-12 Outreach University of Alaska Statewide
Project Manager Alaska Teacher Mentor Project
Educational Consultant Dunleavy Educational Services.
Service Organization(s) Membership
Sacred Heart Catholic Church
Life Member NRA
Alaska Outdoor Council
Association of Alaska School Boards
Iditarod
Association of Alaska School Administrators.
Member, Delta Junction Chamber of Commerce
Member, Delta Junction Chapter of the Alaska Farm Bureau
Special Interests
Alaska Family, Volunteering, Rafting, Snowmachining, Fishing, Camping, Hiking, Hunting, Horses/mules, dogs.